Something for everyone
This Mother's Day Gift tutorial collection contains 25 unique items. Each one has a different appeal and requires different skills. I included so many options in order to offer everyone something they can make and something their special Mom will love. Everything is simple, affordable, pretty, and can be made quickly. Some can even be done VERY quickly for those last minute gift needs.
Disclaimer: I am A)Mother of four, Nanny of five
, and veteran of 51 Mother's Days B) Licensed Procrastinator, C) Intermediate level seamstress and crafter, D) Veteran craft mini class instructor, E) Not the inventor of any listed project, but crazy about all projects on the list and respect the genius of their creators, E) linking each project back to source or a link which leads to source in title and description, F) recommending you click on the project link for full instructions, G) Not a paid endorser of these projects

Pretty Citrus Peel Soaps by Darling Clementine are something any Mom would love. They look so fresh and sweet in these photos, you can almost smell the tangy, fruity citrus aroma.
The bars look so cute wrapped in bright paper and tied with raffia or twine. What kind would you make? I'm thinking mandarin orange, grapefruit, or key lime would smell delightful.
I love this Clutch Purse I found on Pinterest and pinned to my board Accessorize, Accessorize. It is created by Dana at A Place in the Cloud
. It is quite lovely and the tutorial is easy to follow. When in doubt about a gift for Mom, your best bet could be a classic clutch purse. I think that the clean lines and simplicity of the design is elegant. If you wanted to dress this one up a bit, buy a cute pin and attach it to the front. Two gifts in one!
The Flower Box Vase
by Creme de la Craft
is so attractive. I was tickled pink when I realized it is made from an upcycled tissue paper box, some newspaper, and disposable cups! If you want to be super fancy, you can even add some little knobs to the sides.
The Beaded Cord Necklace
by Brittany's Best
is so fashionable, who would think that it would only cost about five dollars in materials and take just fifteen minutes or so to create? I think Mom would adore it.
The Book Page Mason Jar Light by Optimistic but Never Quite Elegant is exquisite. This gift has it all. It is easy, almost free to make, and you can make it at the last minute.
It wouldn't be Mother's Day without something from Martha Stewart! Whimsical Photo Pillows are fun to make and give. I first saw them on Pinterest and pinned the Photo Pillows to my Mother's Day Pinterest board. Any Mother or Grandmother will love them!
This elegant, no-sew Poem Script Scarf by Stamp 48 was inspired by the We Are Owls Poem Scarf. I found some rayon scarves at Dollar General. The regular price was five dollars each, but I got them on sale for half off. Then I went to Hobby Lobby and saw these three different shades of iridescent fabric paint for 99 cents apiece. Guess what my girls and I are getting this Mother's Day? My total cost for all four gifts was under fifteen dollars. Look for photos of my version in a future post.
The Everything in a Jar Gifts were also found on Pinterest. I pinned them to my Giftables Gallery - DIY and Crafts board. The Gunny Sack has a tutorial for any gift in a jar. They even offer free printable labels for your jar gifts. The perfect last minute gift.
I found this stunning Felt Dahlia Corsage on Holidash. Take your time making it and get enough supplies to make more than one. If you have trouble you'll have a back up. If all goes smoothly with the first, you can still make a second corsage to keep.
The dish towel from Sew Homegrown was a Pinterest discovery, too. I repinned it to my Giftables Gallery board. If you can sew a straight stitch and iron, you can whip one out in 30 minutes. Your Mom will love it!
This tasty looking Fruit Bouquet is from Parents. The flowers are cut with cookie cutters and placed on skewer stems.
Mom will enjoy this healthy edible gift. If you make this, please let me know about it. I'd love to see a tutorial post with better resolution photos.
This monogrammed Denim Scripture Tote by The Polkadot Chair is another gem I saw on Pinterest and pinned to my Accessorize, Accessorize board.
It is made using upcycled blue jeans. You'd have to be sneaky and measure Mom's scriptures without her knowing about it to get the size right. Or, you could just tell her ahead of time what she's getting. She'll probably take the measurements for you and save you a step.
This
Photo Key Chain
was found on
Scrapscene
. It is designed and created by
Sherelle Christensen
. What Mom could resist those adorable baby faces? Hey, even if the kiddos were all grown, having this key chain with their baby pics would be fun for Mom.
The
Bath Sundae
from
Creative Juices
looks delish. What a fun gift to make and give. It is extremely easy to put together and can be done at the very last minute if needed. I think any Mom will love it!
Here is a rustic and delightfully charming Wildflower Vase from Little Birdie Secrets.
A child could help make this gift. How much fun they would have picking flowers to fill it up for Mom on Mother's Day!
If your Mom likes ruffles, then she'll love this easy and affordable
Ruffle Scarf
by
Tidy Mom
. You'll need an extra large tee shirt, scissors, and a 9" paper plate to make it. Yep, it is a no-sew 20 minute gift!
An elegant
Pearl Chandelier
featured by
Apartment Therapy
is a great gift. It is shown as a Patio Chandelier. I think it would be pretty in the bedroom too. Pearls are timeless, and plastic pearls are so much more affordable. You can purchase all chandelier materials for about ten dollars. This project is also featured on
Dollar Store Crafts
.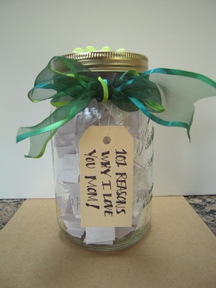 This precious
Photo Pendant
is by
Ginger Snap Crafts
. My heart melted when I saw that sweet baby photo. Make one for your Mom, it is a guaranteed home run hit gift.
The
Mason Jar Pincushion
by Stephen and Natalie at
Life Made Simple
is a pretty and practical gift for any Mother. Whether or not your Mom is a seamstress or crafter, she will enjoy this thoughtful present from you.

As always, please let me know if you make any of these. I love feedback and photos! Happy Mother's Day!!