I am so excited to share this dress with you!
One of my favorite sewing blogs is Me Sew Crazy by Jessica Abbott, The Sewing Rabbit. Recently Project Run and Play hosted a Spring Fever Remix Contest. This was an opportunity for other sewers to re-make Jessica's fabulous Spring Fever Dress.
I didn't get my version, the Nursery Rhyme Dress, finished and photographed in time to enter the contest. There were some amazing entries!
Spring Fever Dress by Me Sew Crazy
I made this dress for my youngest granddaughter TINKERBELL.
I used pink gingham for the lining of the bodice, the tubes for the ruffles in the skirt, and the lining for the sleeves. I used pink grosgrain ribbon for the top ruffle and the trim on the sleeves. The firmness of the ribbon made the top ruffle pop up like a peplum. The main fabric was the pink and white cotton Mother Goose Nursery Rhyme print. I found all the things I needed for this dress at Hobby Lobby except for the pink flower buttons. I got those at Walmart.
Thank goodness we had the opportunity to go visit TINKERBELL's family a couple of weeks ago! You see, I made the dress using The Sewing Rabbit's Spring Fever Dress free pattern and tutorial, but TINKERBELL never got to try it on as I was making it. We live over 200 miles away from each other. Her Mom gave me her waist and chest measurements, and the rest was up to me and this wonderful dress pattern and tutorial.
This was my first time to use a digital pattern to make a dress. Know what? I am sold on digital patterns! They aren't made of that terribly thin paper that never folds back up the right way once it has been unfolded. They don't rip as easily and they last a lot longer!
As you can see, the grandbabies had a lot of fun with the bubbles and the rocking horse whilst their Nanny was taking pictures. TINKERBELL's little brother, GERONIMO, had to get in on the action. Yes I made new clothes for him and his baby brother too. He isn't wearing them in these photos. You can see that post, including a free shorts and pants pattern, here.
If you like this Spring Fever Nursery Rhyme Dress and want to make one for your precious daughter or granddaughter or some other special little angel in your life, head on over to
The Sewing Rabbit's Spring Fever Dress free pattern and tutorial. I think you'll love your results as much as I love this dress!!
.
This post is shared at:
Chic on a Shoestring: Flaunt It Friday 148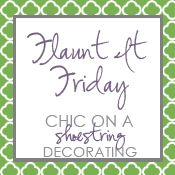 Happy-Go-Lucky: Shine on Friday
Diana Rambles: Pin Me Linky Party #27
Time To Sparkle Tuesday Link Party #3
Take-A-Look Tuesday
Cutesy Crafts: An Oldie but a Goodie #12
Sew Crafty Angel: Weekend Blog Hop Link Party #4
Sincerely, Paula: NO RULES Weekend Blog Party #42
Get Your Crap Together: Pattern Party #2
Threading My Way: Threading Your Way - Dresses For Girls - Link Party