Magnificent Memphis Style Coleslaw that you'll love to show off. It is absolutely perfect for potluck, family gatherings, and barbecues!
Ingredients
Dressing
1 Tablespoon Imperial Light Brown Sugar
2 Teaspoons Kosher Salt
1 Teaspoon Paprika
1/2 Teaspoon Dry Mustard
1/2 Teaspoon Oregano
1 Teaspoon Freshly Ground Black Pepper
1/2 Teaspoon Garlic Powder
1/4 Teaspoon Coriander
1/4 Teaspoon Onion Powder
1/2 Cup Hellman's Real Mayonnaise
1/4 Cup Apple Cider Vinegar
Slaw
1/2 Head Cabbage
3/4 Cup Minced Green Bell Pepper
2/3 Cup Minced Sweet Red Onion
Directions
In a medium sized bowl, use a whisk or a large fork and blend mayonnaise and cider vinegar into the other dressing ingredients until the sugar dissolves. Set aside.
Use a large knife to cut cabbage into thick slices. Cut those thick slices crossways into much thinner slices. Place in large bowl and set aside.
Mince onion with sharp knife or small food processor and add to bowl with cabbage.
Mince bell pepper with sharp knife or small food processor and add to bowl with cabbage and onion.
Pour dressing into bowl over the top of cabbage, pepper, and onion and fold together with large wooden spoon or other large serving spoon to blend.
Cover bowl and place in refrigerator for at least one hour before serving.
This is a delicious and quite unique coleslaw recipe that I adapted from
State Championship Coleslaw Recipes - Memphis - in the June 2013 issue of Southern Living Magazine
. Trust me. Even if you don't like coleslaw, you should try this one. I made it for HUBBY and PRINCE because I am not a big fan of coleslaw, but I really fell in love with the amazing flavor!
This recipe is shared at:
Sew- Licious Home Decor: Saturday Show-licious Craft Showcase #39
Sunflower Supper Club: Weekend Potluck #74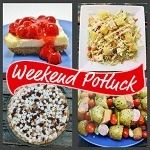 Rattlebridge Farm: Foodie Friday -- July 4th