Welcome to Week #4 of The 52 Week Money Saving Challenge. This week, I'm saving four dollars. I know that some of you have already joined the challenge. How is everyone doing so far?
For those of you that are new, I'm so glad you're here. You can catch up with us pretty easily.

Find yourself a jar, or a sock, or something to tuck your cash in and start saving. Week #1 the challenge was one dollar. Week #2 the challenge was 2 dollars. One dollar + two dollars = 3 dollars total. That was when I jumped on the bandwagon.
Week #3 the challenge was to save three dollars. Three dollars + three dollars = six dollars total savings.
In other words, just save this week's four dollars + six dollars for the first three weeks. You'll now have a grand total of ten bucks saved!
Ten bucks? You can do it! I'm pretty excited about this because even I can do it! What is even more exciting is thinking about how much we'll have by the end of the 52 weeks!! Check the total on the chart!
For a free printable chart, check out Stuck at Home Mom's 52 Week Money Saving Challenge. Happy saving!
This post is shared at:
Consider The Lilies: Homemaking Link-Up #26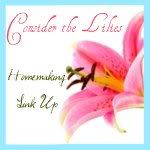 Sarah Dawn Designs: Pintastic Monday - Link Party #24