Come on and take a free ride
The
1940 U.S. Census
has a 10+ wow factor, and it is absolutely free. Unlock the treasures of the greatest generation in your pajamas. With one click, climb aboard this legendary time machine and let the adventure begin!
Uncle Sam asks you...
How about this vintage Census poster?
Evidently, Uncle Sam was making an effort to reach out and touch the rural branches of his American family. Can anyone tell me who the model was for this depiction?
Source: National Archives and Records Administration via Wikimedia Commons
He looks familiar
Uncle Sam in the above image reminds me a little of Moses. NO, not the REAL Moses. The MOVIE character Moses, portrayed by famous actor Charlton Heston in The Ten Commandments. Do you agree?
Movie stars and Presidents
While we're on the subject of actors, guess who else you can find in the
1940 U.S. Census
? None other than famous movie star and future U.S. President Ronald Reagan. Here he is in 1940 with his first wife, Jane Wyman. What a sweet wedding photo.
Ronald Reagan and Jane Wyman wedding photo, January 26, 1940. Getty Images,
Real Simple
Here are the stellar
newlyweds at their California home on this
1940 U.S. Census
record
, as reported by
ABC News
: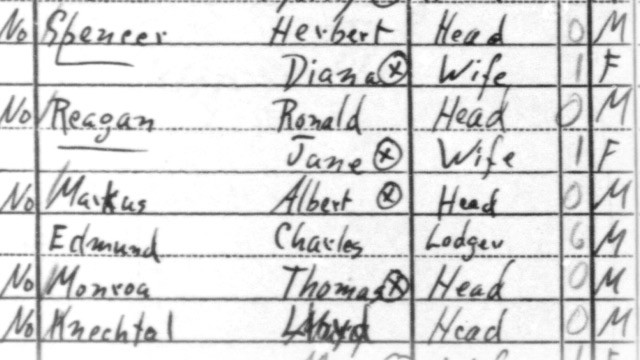 An image of a page from the 1940 U.S. census shows the names of Ronald Reagan and then wife Jane Wyman Reagan on lines 33 and 34. ABC News
The Census Taker
While it is fun to search out movie stars, politicians, and other famous folk on the
1940 U.S. Census
, it is even more rewarding to travel back in time to find people you know. Many Americans that were part of that census are still living today. Perhaps that's why we as a nation feel such a strong connection to this particular census release.
Although a lot of us were born after 1940, most Americans have family listed in the records. Who will you find? If you're a baby boomer like me, you'll probably find your parents listed there. If you're younger, you'll discover grandparents and great-grandparents. How about those vintage trailers?
What's your connection?
Here is a photo from an earlier
post
of my own Mom and her Mom, my Nanny. This was taken in 1939, just one year before the census.
Nan and Mom "Love to Daddy" November 1939 by Gentry Hall, Wichita Falls, TX
I am proud to say that HUBBY's father was a tail gunner in the U.S. Air Force during World War II. Here is a photo of him with his combat crew and their B24 Bomber, the HE Cordell. He was a modest man of great courage, bravely risking his life during each of his 33 combat missions.
Howard Henderson, far right, front row, with HE Cordell combat crew, USAF, WWII
Who do you know?
Who do you know that was in the
1940 U.S. Census
? What will you find? Discover your own adventure. Get started here: